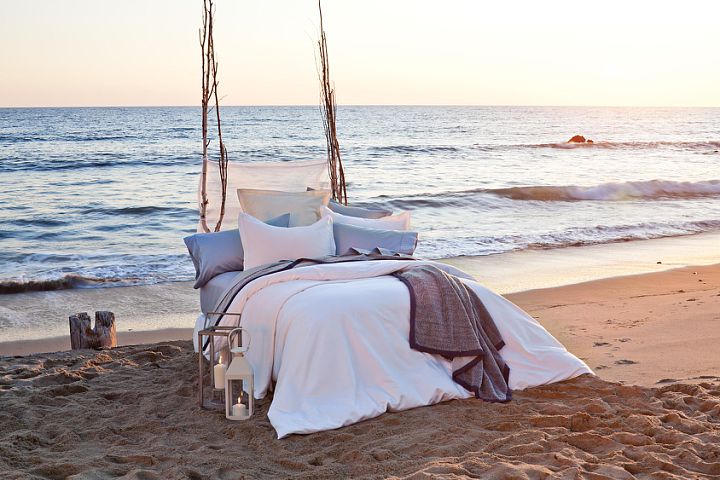 Kris and I live in the northwest suburbs of Chicago (in Palatine!) and it has been unbelievably warm the last few days…..and my phone started ringing (gotta love that!)  Many people started calling who attended our gatherings over the winter, learned that our Bamboo Sheets are more absorbent than cotton and felt how Bamboo Sheets are truly "cooler to the touch" than the other sheets they felt! Time to give PQ Bamboo a try with this dramatic change in the weather! We know you will fall in love with PQ Bamboo! (Just like the models wearing Bamboo in the photo below!)
With the weather turning warmer, many are thinking about "Bamboo" because it is much more absorbent than cotton and it has a cool, silky feel against the skin. And it is naturally antimicrobial – so it resists bacterial & fungal growth/ smells! We have Bamboo Sheets,
Our beautiful woven Bamboo Blanket (a favorite for a special wedding gift…… and ideal layer all year long – great over our Bamboo Sheets for the warmer months and the perfect medium layer between sheets and your comforter in the Fall/Winter!),
our Bamboo Towels are naturally silky soft (no chemicals!), dry quickly and resist that weird "stinky towel smell" – the best towels for those who seem to forget to hang up their wet towels!
And a Collection of Bamboo Comfortwear to wear during the day, evening and for sleeping!
Please take a peek at my previous post for a video of the versatility of our Bamboo Comfortwear Collection!
Please share this with your friends and family who would enjoy the benefits of Bamboo! We have samples for you to experience and try-on. We can bring them to your home or office. Or you can visit our In-Home Boutique in Palatine, Illinois. All our products come with our "Any Reason Guarantee" – they must surpass your expectations or we are happy to refund your purchase or exchange them!
Invite a few friends to learn about Private Quarters with you – receive FREE, Half-price and Specially priced Private Quarters Merchandise as our Thank you! You can contact Elizabeth by phone or text at (847) 502-8394, message on Facebook or email at   elizabeth@elizabethanthonygronert.com We help you have Comfort For Life with Private Quarters!