It's happening again – a whole weekend of education – absolutely free to attend! SAVE THE DATE – I will be presenting this Saturday March 20 at 2PM Eastern Time. My class will be: Bone Broth Recipes and Meal Planning.

Here's the class description:A pot of healing soup has been "medicine" for centuries. Come learn simple proven, and most important – great tasting recipes! Plus meal planning that will improve your food budget and boost your daily nutrition. Amazon Best-Selling Author Elizabeth Anthony Gronert will show you how to use everything from your fridge and freezer to create these yummy, tummy taming meals! Learn meal planning – start with a main meal made from a roast, stew pot, crock pot or instant pot. Then make soup, broth, sauce and gravy. Best of all she will guide you on how to accomplish all this affordably – your family will be eating the healthiest yet stay on budget. Where to shop, what to buy and other savvy advice will be included to perk up smoothies, snacks and mealtime while stretching your food dollars. #BoneBrothMealsHeal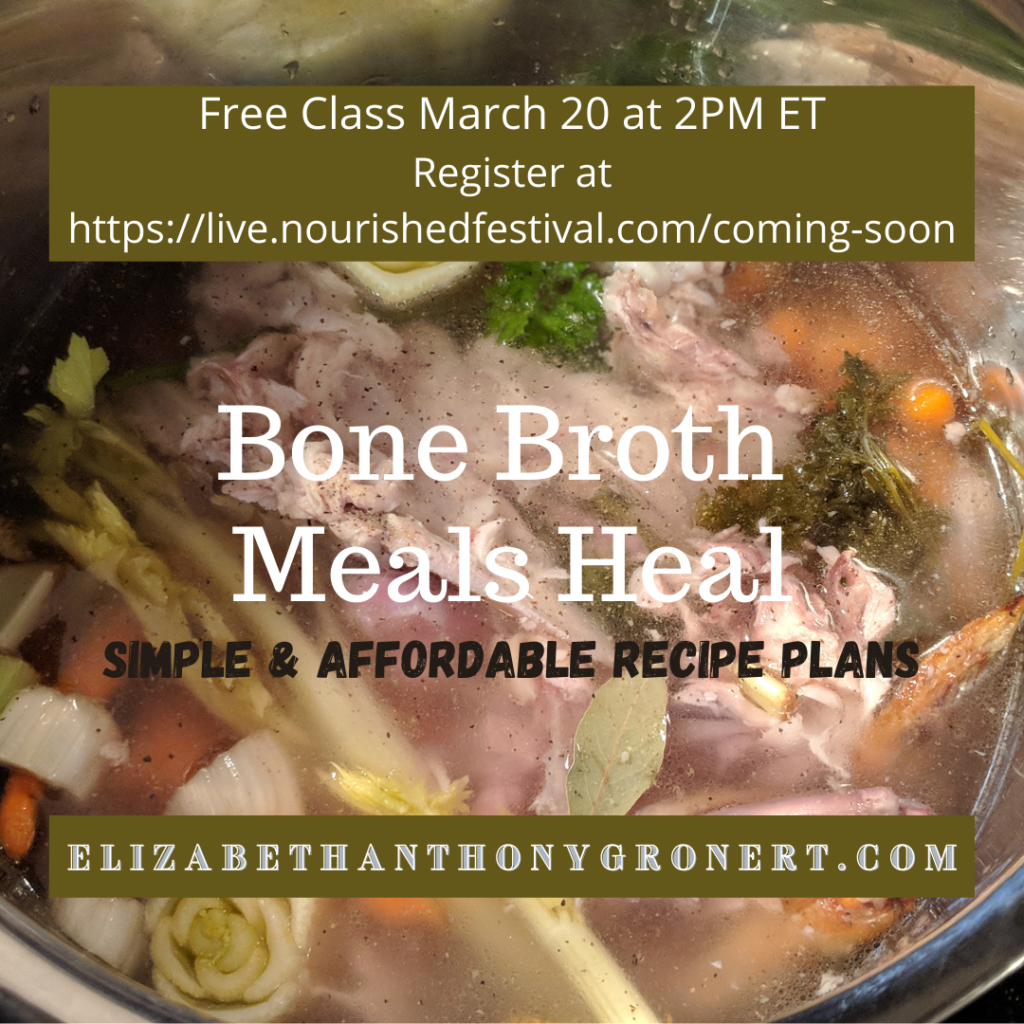 My class is offered as part of the Online Nourished Festival this weekend March 20-21, 2010 10-5 Eastern Time. A gathering of wellness experts, speakers, companies and manufacturers that support our community – people with food allergies, autoimmune diseases, cancer or others who have changed their eating & living lifestyle for their best health. We used to meet every year in ten cities across the US.
Due to the Covid Pandemic, our regional conferences have become completely virtual. We miss seeing you in person….but the upside is anyone can attend that has web-access and there are still lots of giveaways with ways to sample products!

Put this weekend on your calendar – register here to get all the details: https://live.nourishedfestival.com/coming-soon

Visit my website at www.elizabethanthonygronert.com or on Social Media @ElizabethAnthonyGronert, Twitter @EAGronert
#bonebrothmealsheal #wellnesslifestylestrategy