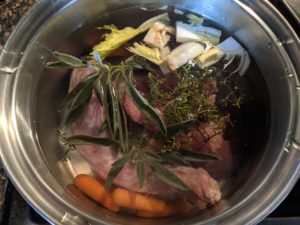 Since receiving multiple texts in the last few hours, I thought you may need
some last-minute help making the BEST TURKEY GRAVY too!
When preparing your turkey, do not throw out the turkey neck & giblets
(heart, liver and any other little bits your found tucked inside the bird!
These parts will help you make a lovely quick bone broth to create the BEST  TURKEY GRAVY for your meal.
Place the neck and other turkey parts into a 3 to 5-quart pot. If cooking
multiple birds/serving more people, use all the parts to create more broth and double recipe below. I use a larger pot for two reasons:
 Add more water to start and it will cook down
into a rich broth
 Use the same pot to make your gravy in later
Ingredients for Turkey Neck Bone Broth:
Turkey Neck & Giblets (Liver, Heart, Kidney) (I do not cut the neck or organ meat up)
Filtered Water – cover ingredients completely (6-8 cups)
1 Teaspoon Apple Cider Vinegar
1 Small Onion & 2 Garlic Cloves – cut into chunks
1 Teaspoon Sea Salt
1 Stalk Celery & 1 Large Carrot
2 Fresh Sprigs of Thyme & Sage (or use dried)
Optional: Bay Leaf
Place all ingredients in your pot. Set the heat to medium high till the
liquid is simmering. Then reduce to low and leave to cook for as many hours you have (I usually start first thing in the morning and cook for at least 6 hours. But have forgotten and made lovely broth in 2 hours too!)
Place a colander on a second pot or bowl. Pour the pot contents and you will have a lovely broth to use for gravy or as part of your bone broth soup.
Let the neck cool – gently separate the meat from the bones. Save the bones for when you make turkey bone broth from the carcass or discard the
bones. (Be sure to throw out poultry bones in a tightly closed garbage
container. Poultry bones are dangerous for pets/animals to accidentally eat. The poultry bones are sharp and may perforate their intestines.)
I use the neck meat to prepare my stuffing since we no longer stuff the turkey.
Collect the turkey drippings with a pan under a roasting, smoking or grilling bird. If there are no drippings (deep fried or some grills) or if you don't have enough you can substitute/add/use chicken fat, butter, olive oil or ghee. (I keep my chicken fat from previous roasts in the freezer – easy to break off chunks for cooking or making gravy/sauces.)
Gravy Ingredients:
1 Cup/8 oz. Turkey drippings/liquid fat (2 sticks
butter/ghee/vegan butter/olive oil or combination)
3 Tablespoons Flour (we have been using brown rice)
3 Tablespoons Starch (we have been using Arrowroot)
24-32 oz broth – depends on cook time
Melt the fat in the pan, when it is nice and hot whisk in
the flour and starch till it becomes saturated, crumbly. Then start adding the broth slowly – first it will get thick, just keep adding a bit of broth and
whisking till it becomes creamy – don't let it get watery. The longer it cooks, the more broth/water you will need to keep it a nice smooth texture. If you get lumps, you can use a strainer. With practice, you will not have any lumps.
Serve hot in a gravy dish or small crock pot.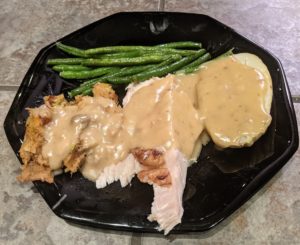 I love gravy all over my meat, potatoes, stuffing and even veggies! Learned this from my German father – he always loved gravy and it inspired me to master the BEST TURKEY GRAVY – Such a treat!
Post a picture so we can admire your results!
Now go back to my home page www.elizabethanthonygronert.com for free download of directions of how to make the best homemade broth from the carcass and soup from your leftovers!
Enjoy!
Have a blessed Thanksgiving!