Are cracked, tender heels a problem for you or someone you love? Here are a few quick tips that successfully have helped others treat the cracked skin on heels. The cracked, dried skin took time to develop and it will take diligent discipline to nourish the heel skin back to supple health.
If the cracks on the heel are open or bleeding, priority must be to help them heal. If there is an infection or medical conditions like Diabetes, please consult your medical professional first regarding any broken skin on your feet! Be sure to avoid any allergens and gluten if you or the person you are caring for are sensitive!  Apply an antimicrobial (antibacterial & antifungal) healing ointment to the areas that are affected until healed. Sometimes, soaking the feet in a gentle, non-detergent bath with Epsom salts and bath oil will aid in healing the skin.  We have had excellent results with a product from one of our favorite stores called MelaGel – however, it contains wheat germ oil and is not gluten free. Using a pure Melaleuca essential oil also works well under lotion or ointment.  Melaleuca oil is a natural anti-inflammatory with antibacterial, antifungal qualities. It is also a natural antihistamine to reduce any swelling and redness. Apply the MelaGel or Melaleuca oil with a protecting lotion/cream/oil to the areas needing healing and cover with a white or undyed sock. Apply twice daily to speed healing.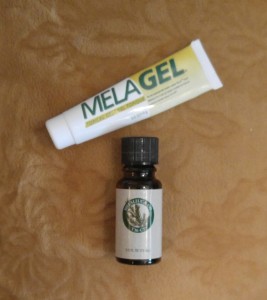 Once the open cracks have healed, we can now work to improve the skin tissue of the heel. Soak the feet in a tub with a soothing non-detergent bath oil – add essential oils  (Melaleuca, Lavender, Frankinsense are great ones to try!) and Epsom salts for added benefit. Once the skin has softened, follow the directions below the picture to gently exfoliate the heel using a pedicure paddle. Our favorite is Swedish Clover Föt File imported by Flowery.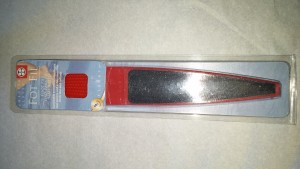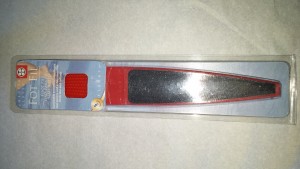 This paddle has a coarser side (raised nubs) and a smoothing side (horizontal lines). Depending on the thickness of the skin (as we mature the skin thins so be careful to stay on the thick bottom skin of the foot – usually has a yellowish tint.) Do not use this paddle on someone with diabetes or other medical condition without consulting your medical professional first!
For most people, you can start with the coarser side to gently rub the thick skin of the heel (some have this this thick skin on the ball of the foot and big toe) to thin this heavy pad – when it is very thick, it wants to crack. By reducing the thickness, the skin is able to be more pliable. Be sure to stay on the thick padded parts of the heel, ball of foot or big toe at all times. Focus on the areas that want to crack.
Never remove too much skin – the body creates this callous to protect the foot. Start by just a few swipes to soften, then finish by using the smoothing side of the paddle to bring the skin to an even appearance. Always use the smooth side to finish otherwise the body may work quickly to replace this unhealthy thick skin. We suggest keeping the paddle in the shower/bath and use 1-2 times a week for maintenance.
Rinse the feet. While skin is till moist apply ointment, MelaGel or Melaleuca oil to the spots that tend to crack. Then massage the whole foot with lotion/cream. Depending on the lotion/cream you use, an application of oil may be required as a prevent moisture loss. This will help the skin heal and regain its pliable, healthy state.
Application of the products after every bath and shower is suggested to retain the moisture in the skin to eliminate cracked heels forever.
If you found this helpful, please let us know. Just a reminder, if you have any medical condition – please consult them before trying any of our suggested treatments. In this article, we are sharing over three decades of success/experience as a cosmetologist/esthetician. Visit us on Facebook (Elizabeth Anthony Gronert), send us an email at elizabeth@elizabethanthonygronert.com or call/text at (847) 502-8394. Elizabeth & Kris Gronert bringing you Comfort For Life!