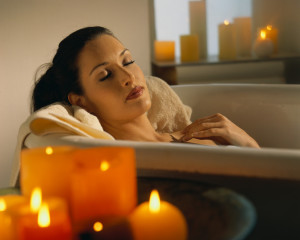 If you are at all like me, the chill in the air has definitely had an impact on my body! Not only does it make it harder to get up in the morning…. my skin feels drier, my scalp starts to flake, my hair is fly-away and my heels threaten to crack. No worries – there are some simple, safe things you can do now to have healthy skin, hair and nails through the cold weather season!
First, at least once a week, take the time to savor a bath. Use a bath oil designed for dry skin that will nourish sensitive skin and leave it feeling restored. A bath is less drying (especially with the healing oil) than a shower – if your skin is especially dry, choose a bath over a shower. After soaking in the bath, use a foot paddle to remove dead skin cell accumulation on your heels, toes (knees and elbows if it is tough and dry there, too!) I have a favorite one that is available at your local beauty supply.
After your bath, if possible exit the water and "drip dry" for a minute or so. Apply a skin lotion over the remaining water  that has great nutrition for your skin and a lasting sealant to keep the moisture in your skin. I have finally found one product that does both….there are many great lotions out there that hydrate but may not always have the ability to effectively seal in moisture…which means if the air is dryer than your skin, your skin will release the moisture back into the air (you will know if your lotion has low sealing qualities if your skin feels fabulous after you apply lotion but feels very dry about an hour or so later.)  It is possible to use a great hydrator and then a separate effective sealant to accomplish the desired result of well plumped skin that stays that way!
Second, the night before shampooing your hair, apply tea tree/also called melaleuca essential oil or other healing oil to the areas of the scalp that tend to flake – some have this year round, I tend to only have it when the weather changes. I part my hair in the areas that flake around my face and apply a cooling balm of my favorite tea tree oil blend. In the morning, I shampoo (you can add a few drops of tea tree oil while shampooing too!) Be sure to massage the scalp with the tea tree infused shampoo, allowing the shampoo to stay on the scalp a few minutes when sudsing other parts of the body in shower or soaking in the tub! If you use conditioner, be sure to massage the conditioner into your scalp to finish this invigorating scalp treatment! Many hair experts feel that great looking hair can only happen when you have a "happy" and healthy scalp (will slow down hair loss too!) Most people wash their hair (and scalp) too much…so if your hair is just flat and needs body or to be "fluffed" up – just wet down with a spray bottle, then restyle instead of washing it!
To prevent hair fly-away, use the now popular Moroccan oil, a fabulous leave-in conditioner or shine treatment on the hair as a finish to help the hair resist static and have incredible shine….. very important for those of us over 40 or with colored hair that doesn't always have that natural shine! I have found a number of awesome oils and lotions designed to be used on naturally curly and ethnic hair that work well to keep hair manageable and looking healthy. Many ways to accomplish this – can't wait to chat with you about the best one for you!
While on the phone keep a cuticle oil and hand cream handy. I also keep one in my car! At this time of year your nails and cuticles need that extra treatment! Apply a nourishing, age-defying cream to the hands and cuticles.  Then seal in with a great cuticle cream or oil. If you are not too tired at night, do the same for your feet and toes (especially treating your heels if they tend to crack!)
Don't forget to wear your gloves! It really makes a difference!
It only takes 21 days to create new habits….happy to help you accomplish a few new routines to have you feeling and looking your best! If you found this information helpful, let us know! If you have any medical conditions, please consult your medical professional before following any of my suggestions here.
Questions, thoughts? You can call/text at (847) 502-8394, email at Liz@elizabethanthonygronert.com or find me on Facebook (Elizabeth Anthony Gronert). We look forward to helping you and your family have Comfort For Life! Elizabeth & Kris Gronert